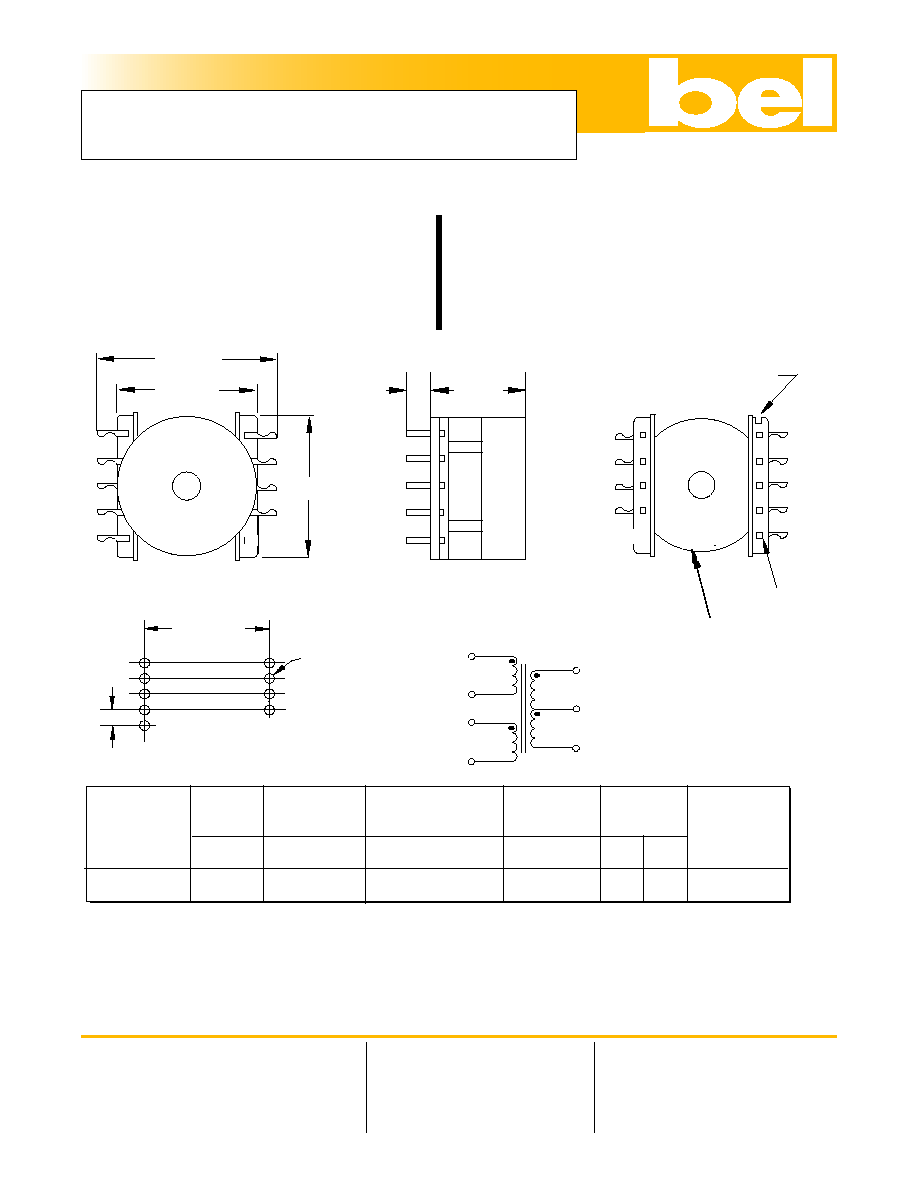 defining a degree of excellence
Bel Fuse Inc.
198 Van Vorst Street, Jersey City, NJ 07302-4496
Tel: 201-432-0463
Fax: 201-432-9542
E-Mail: BelFuse@belfuse.com
Internet: http://www.belfuse.com
Bel Fuse Ltd.
8F/8 Luk Hop Street
San Po Kong
Kowloon, Hong Kong
Tel: 852-2328-5515
Fax: 852-2352-3706
Bel Fuse Europe Ltd.
Preston Technology Management Centre
Marsh Lane, Preston PR1 8UD
Lancashire, U.K.
Tel: 44-1772-556601
Fax: 44-1772-888366
ISDN "U" INTERFACE TRANSFORMERS
0559-6204-00 and 0559-6204-01
0559-6204-00
0559-6204-01
Primary Inductance is measured at 100mV @ 1kHz, 0 & 60mADC. Leakage Inductance is measured at 100kHz, 0.01VAC.
Interwinding Capacitance is measured 10kHz, 1.0V.
MECHANICALS
Bel introduces a new ISDN "U" Interface
transformer. The transformer is designed
to be used with the Motorola ISDN "U"
Interface Chip MC145572.
* Dielectric Strength - 1500 Vrms measured Primary to
Secondary. Meets or exceeds requirements of
CAN/CSA-C22.2 No.225(M90) &
UL Std. No. 1950 2nd ed.
* Part Number 0559-6204-00 varies only in its additional
(P.C. Pattern, Component Side)
bel
Dimension tolerance +/- 0.015(0.25)
unless otherwise stated
Dimensions in inches (mm)
PLACEMENT
NOTE: For Part Number
0559-6204-00 only, there is
additional insulation here.
SCHEMATIC
TM0035
ELECTRICALS