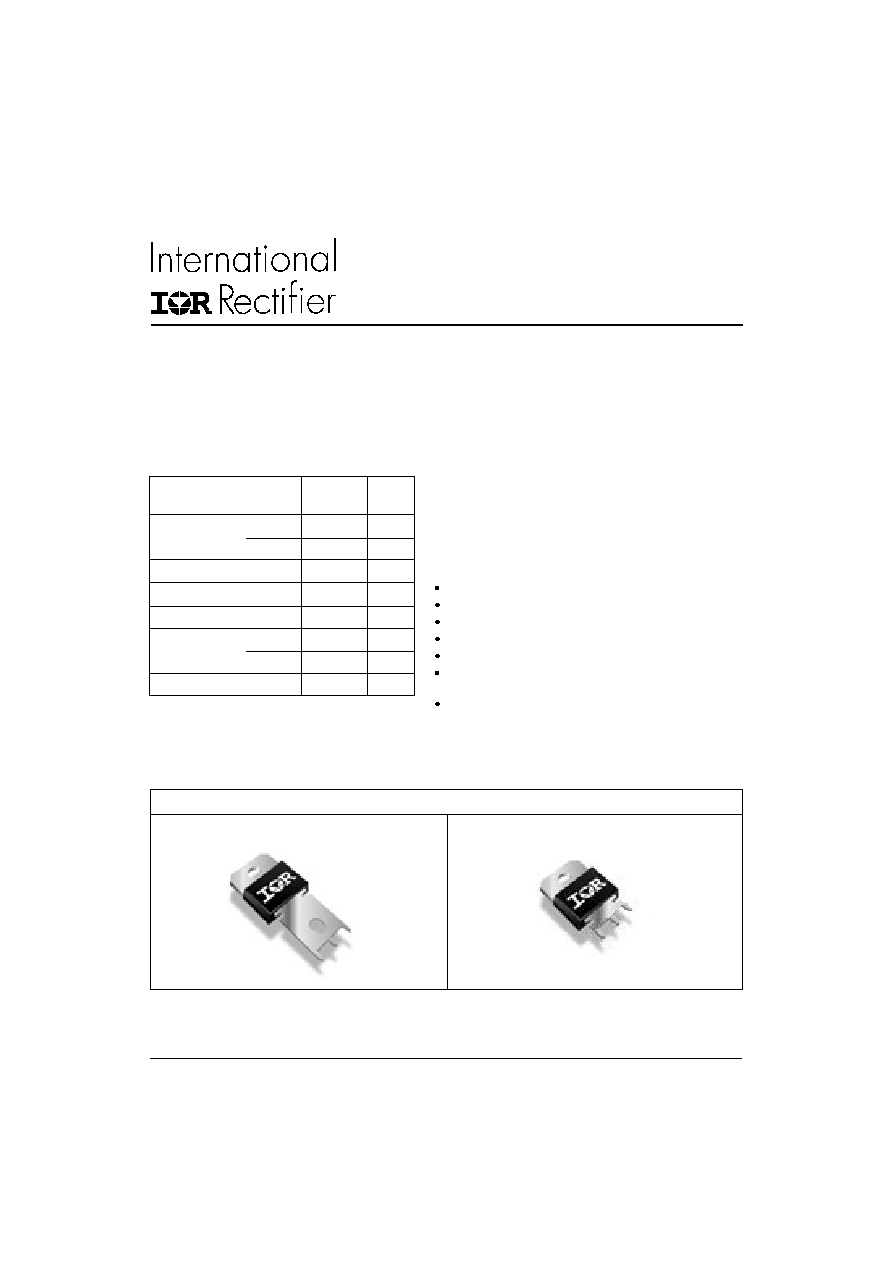 Bulletin PD-20995 rev. F 12/02
Characteristics
100BGQ015
Units
The 100BGQ015 Schottky rectifier has been optimized for ultra
low forward voltage drop specifically for the OR-ing of parallel
power supplies. The proprietary barrier technology allows for
reliable operation up to 125° C junction temperature. Typical
applications are in parallel switching power supplies, converters,
reverse battery protection, and redundant power subsystems.
Optimized for OR-ing applications
High frequency operation
Ultra low forward voltage drop
Continuous High Current operation
Guard ring for enhanced ruggedness and long term
PowIRtab
TM
package
Major Ratings and Characteristics
Description/ Features
Case Styles
Bulletin PD-20995 rev. F 12/02
Forward Voltage Drop (1) (2)
Reverse Leakage Current (1)
Max. Junction Capacitance
, (test signal range 100Khz to 1Mhz) 25 °C
Typical Series Inductance
Measured from tab to mounting plane
dv/dt Max. Voltage Rate of Change
Max. Junction Temperature Range
Max. Storage Temperature Range
Max. Thermal Resistance Junction
Typical Thermal Resistance, Case to
°C/W Mounting surface , smooth and greased
PowIRtab
Thermal-Mechanical Specifications
Max. DC Reverse Voltage (V)
Max. DC Reverse Voltage (V)
Max. Average Forward Current
= 91°C, rectangular wave form
Max. Peak One Cycle Non-Repetitive
5µs Sine or 3µs Rect. pulse
10ms Sine or 6ms Rect. pulse
Non-Repetitive Avalanche Energy
Repetitive Avalanche Current
Current decaying linearly to zero in 1 µsec
Frequency limited by T
Electrical Specifications
(1) Pulse Width < 300µs, Duty Cycle < 2%
(2) V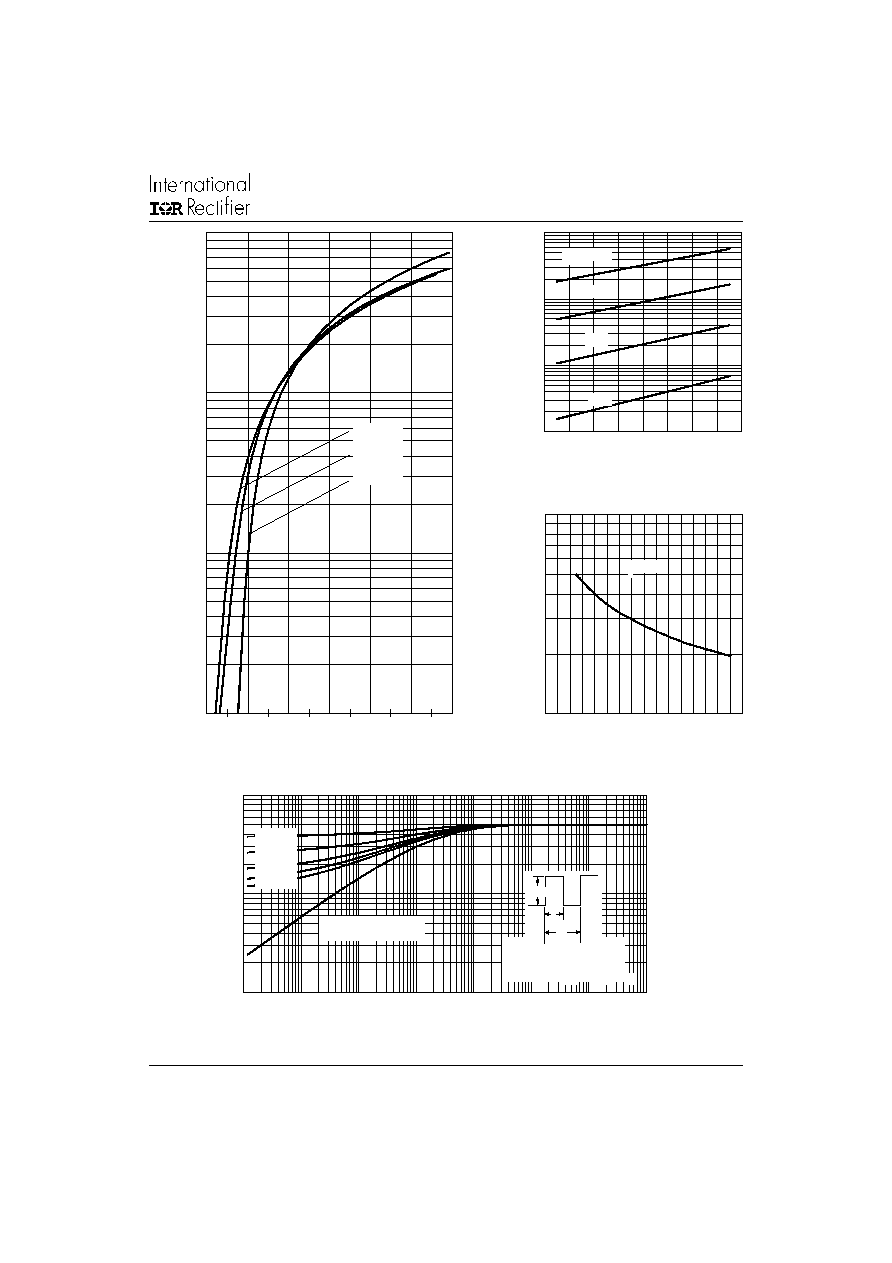 Bulletin PD-20995 rev. F 12/02
Fig. 2 - Typical Values of Reverse Current
Fig. 3 - Typical Junction Capacitance
Fig. 4 - Maximum Thermal Impedance Z
Fig. 1 - Maximum Forward Voltage Drop Characteristics
Forward Voltage Drop - V (V)
t
a
r
w
r
d
r
r
e
t
- I
(
A
r
s
e
u
r
r
e

I

(
J
u
n
t
i
on
i
t
a
F
)
J
C
t , Rectangular Pulse Duration (Seconds)
T
h
e
r
m
l
I
m
e
da
n
c
e

Z



(
°
C
/
W
Notes:
1. Duty factor D = t / t
2. Peak T = P x Z + T
Bulletin PD-20995 rev. F 12/02
Fig. 8 - Unclamped Inductive Test Circuit
Fig. 5 - Maximum Allowable Case Temperature
Vs. Average Forward Current
Fig. 6 - Forward Power Loss Characteristics
Fig. 7 - Maximum Non-Repetitive Surge Current
CURRENT
MONITOR
n
-
R
e
e
t
i
t
i
v
e
S
u
r
g
u
r
r
e
n
t
- I
At Any Rated Load Condition
And With Rated V Applied
Following Surge
Square Wave Pulse Duration - t (microsec)
(3) Formula used: T
Pd = Forward Power Loss = I
v
e
r
a
r
L
t
ts
Average Forward Current - I (A)
o
w
s
e
e
m
r
at
u
r
e
(
°
C
Average Forward Current - I (A)
see note (3)
Bulletin PD-20995 rev. F 12/02
Case Style PowIRtab
TM
Dimensions in millimeters and (inches)
Case Style PowIRtab
TM
"J" version
Dimensions in millimeters and (inches)